Kayak Amelia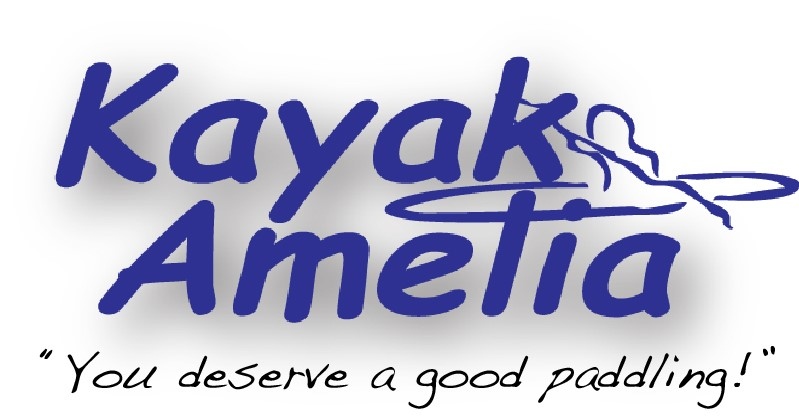 Florida SEE Platinum Certified


Kayak Amelia
Kayak Amelia offers Guided Kayak, Stand Up Paddleboard and Bike Ecotours at Talbot Island State Park and Rentals of Bikes, Kayaks and SUPs from our Outpost. Also offered are Kids Summer Camp and Teen Wilderness First Aid Camp. Our Gift Shop and Booking office boasts Earth friendly gifts at our second location in downtown Fernandina Beach. Kayak Amelia is the OFFICIAL outfitter for Talbot Islands State Parks. These protected, 'wild' lands are perfect for wildlife viewing and just getting away from it all. We also realize that these fragile ecosystems need to be protected from human encroachment. The best way to accomplish this is to get folks to spend time in the environment and learn the stories of the critters that live there.
SEE Certification Highlights
Kayak Amelia became a Florida SEE Platinum Certified Operator in May 2019 and the first certified ecotour in Nassau and Duval Counties. Kayak Amelia qualified at the PLATINUM level, having met all CORE criteria of the Florida SEE Certification Checklist – a requirement for certification – and met 54 of 57 applicable BONUS criteria for an 94.73% rating.
Kayak Amelia Mission Statement: to create a wake, whose ripples provide our guests with a sense of wonder about the natural world, while minimizing our impact on the daily lives of the non-human neighbors whose home we share.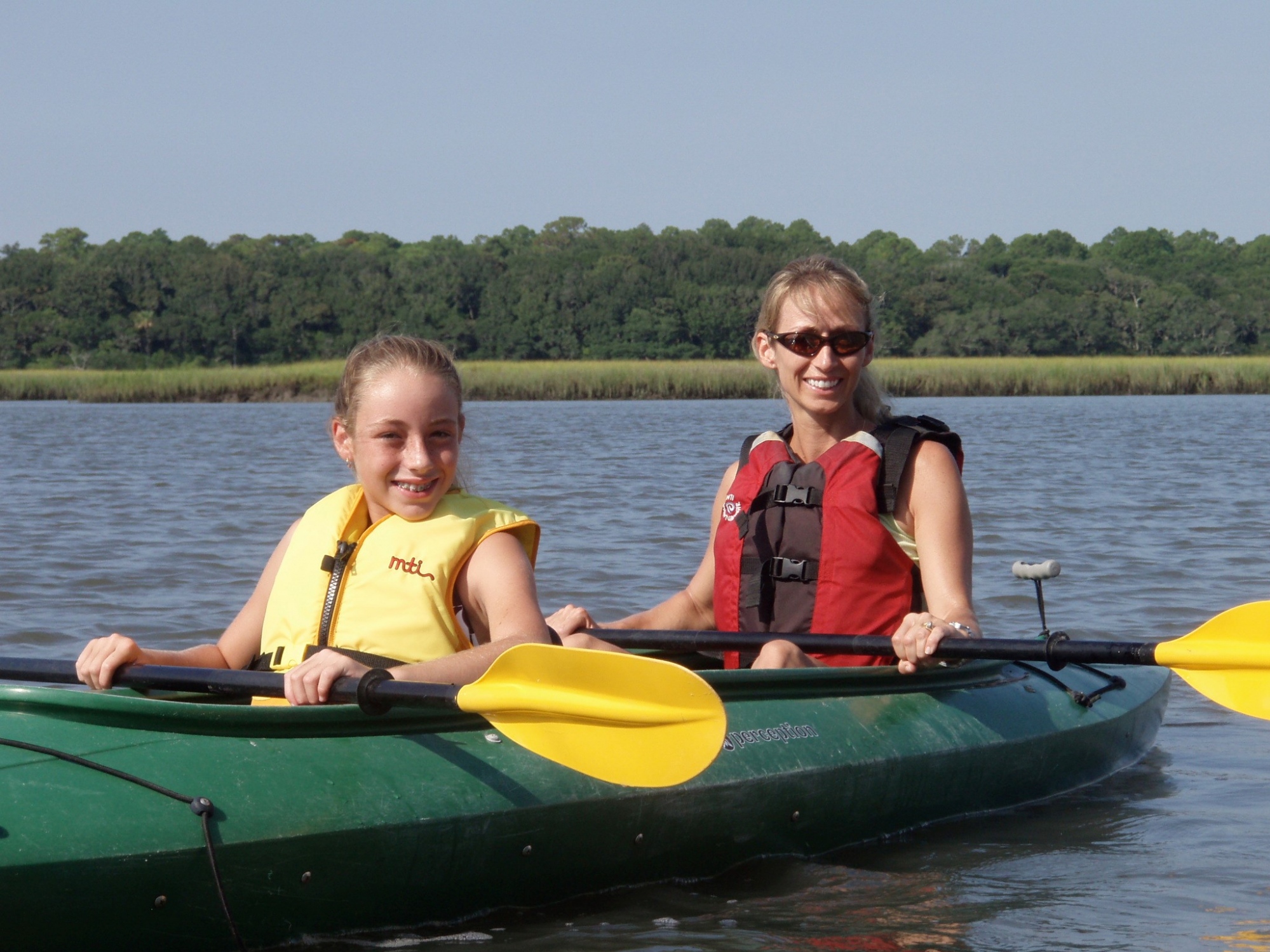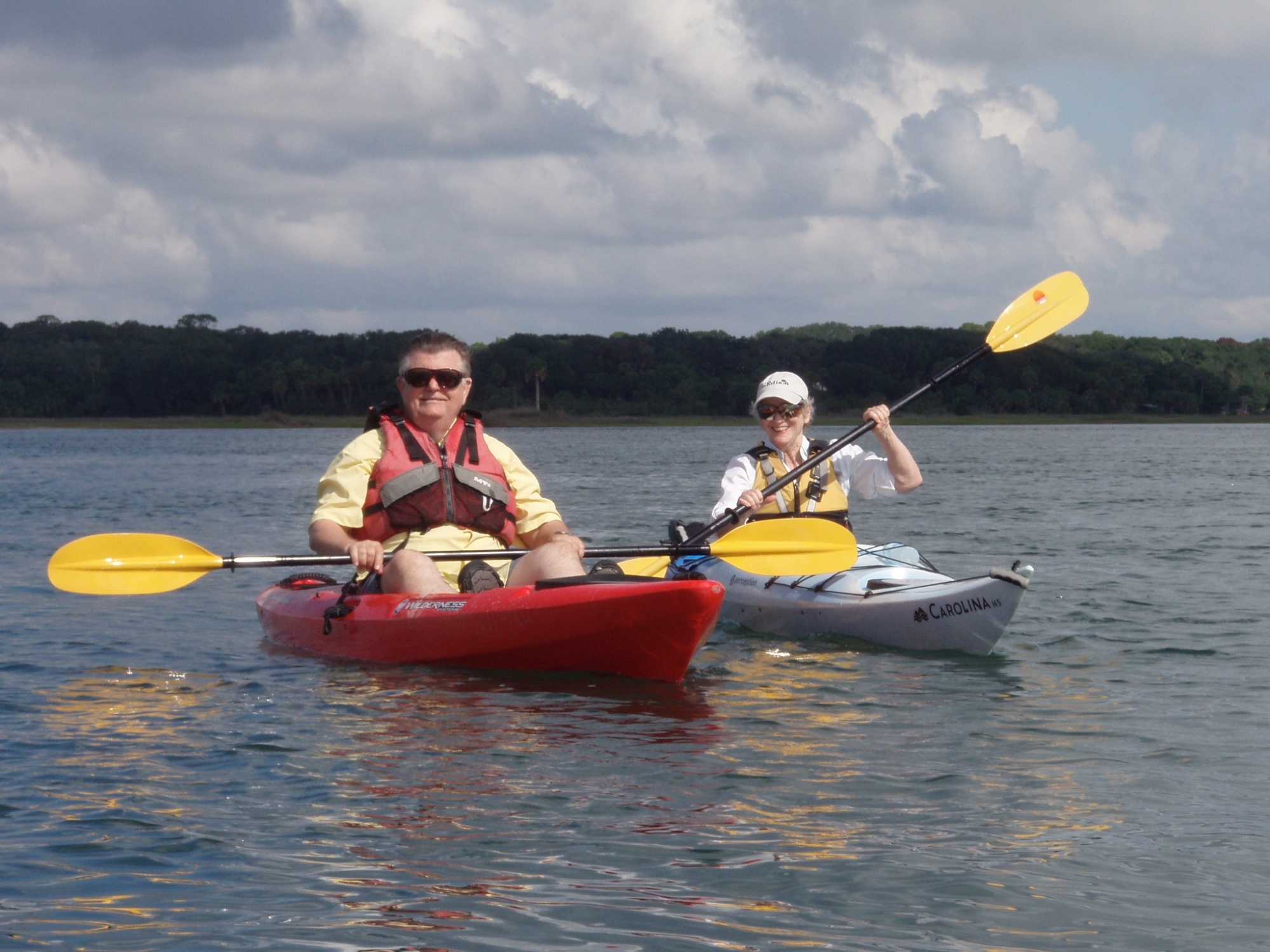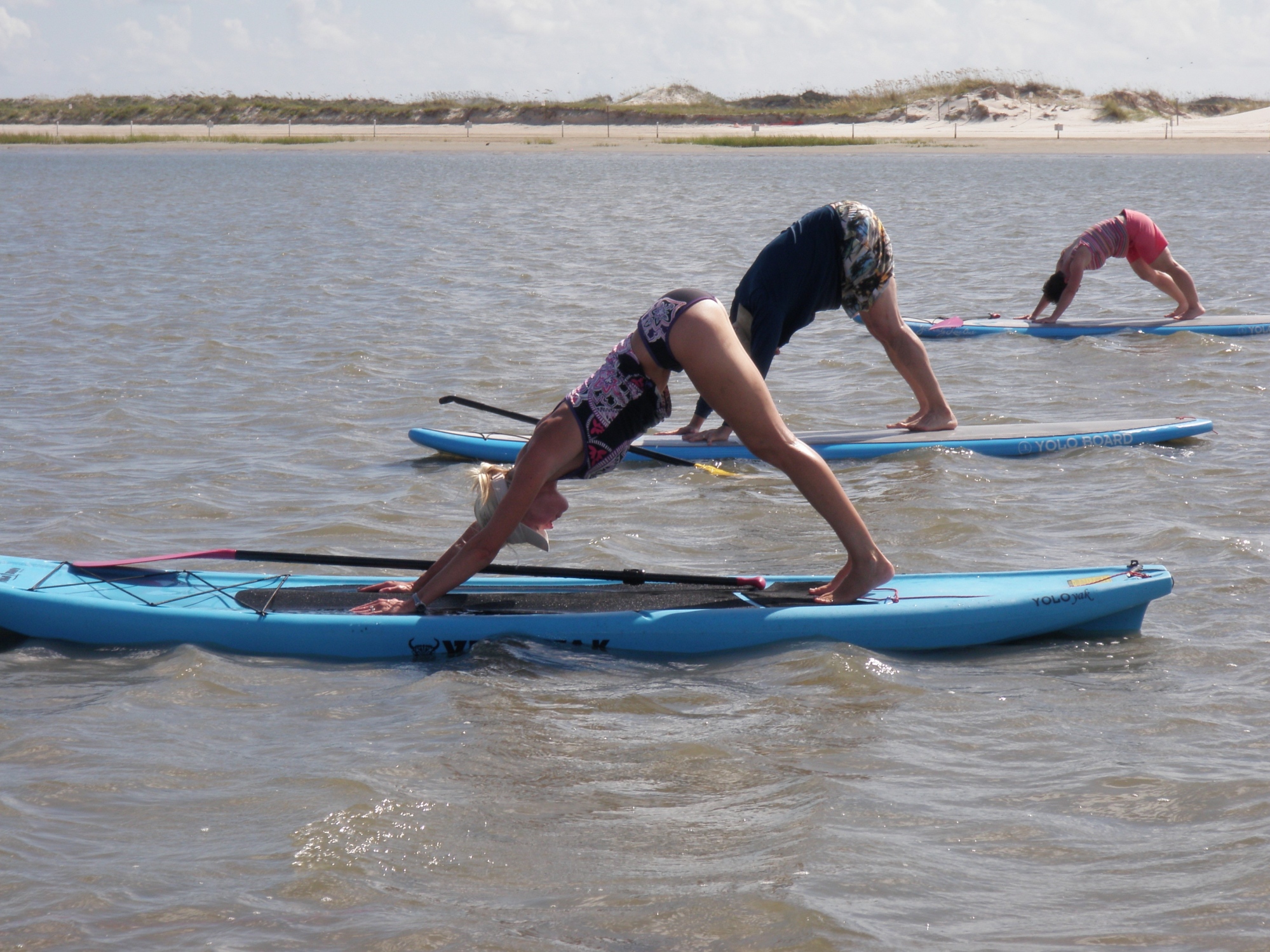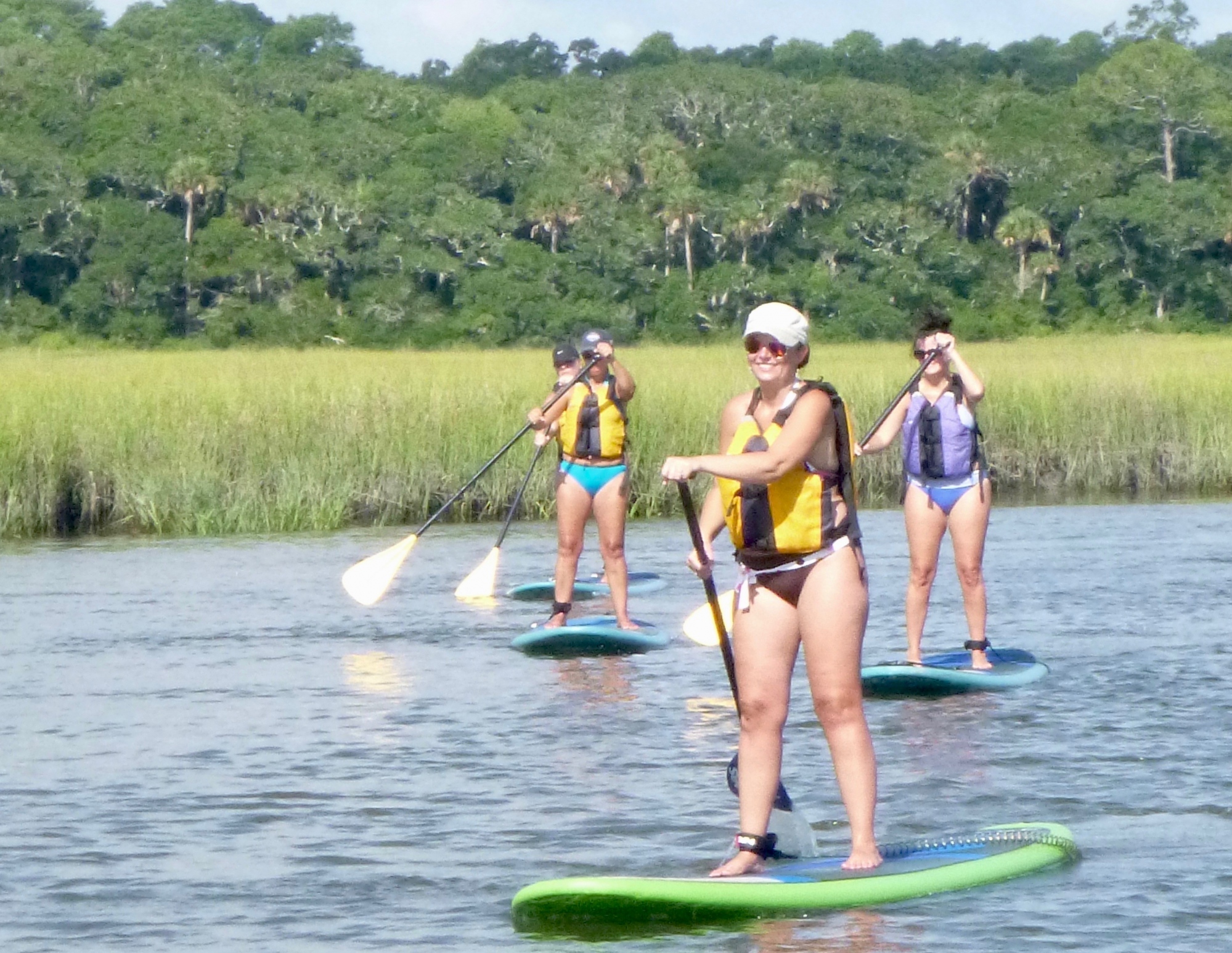 Kayak and SUP Guided Ecotours (reservations required)
Guided kayak nature tours are a great way to learn about kayaking and the local environment. No experience is needed. All tours start with a short paddle instruction on land, midway through the tour you will take a break on a sandbar for a swim (on most tours) in warm weather. Along the way the naturalists describe the salt marsh eco-system, critters and local history. A 3 hour tour has about 2 hours of kayaking.
Guided Kayak Ecotours available include: Marsh Tour, Bar Hopping....that's SAND bars, Ft George Island Tour, Sunset Tour, Meditation Paddle

StandUp Paddle Board options include: SUP Ecotour, SUP Intro & Ecotour, SUP Yoga, SUP rentals, and PHIT - Paddleboard High Intensity Training

Specialty Tours include: Firefly kayak tour and Firefly Stroll (during spring) on Ft. George Island, Silver River Kayak Ecotour: All of Florida's spring fed rivers are beautiful for the clear views of the flora and fauna below the surface but Silver River has one thing that makes it extra special......monkeys!
Kayak Self-Guided Rentals (no reservations required)
Take off from our Outpost location in the middle of Simpson Creek. We supply you with a map and point out interesting places to stop and dangers to look out for. There are miles of salt marsh and small rivers to explore. When done you return to the place you started (which means half the trip will be against the tide).
Instruction for Kayak and Paddleboard: (reservations required)
These are beginner courses designed for the everyday paddler. We cover everything from recommended gear to performing a self rescue.
Quick Start Your Kayak: Students are presented with basic information on potential hazards, simple rescues and how to dress to be able to paddle safely. Various paddle strokes are presented and practiced, allowing students to safely maneuver on still water.

Flatwater Kayak Safety and Rescue workshop: Students will be introduced to essential flatwater safety practices and rescue techniques to understand that prevention is key to a safe trip. Learn how to avoid potential dangers and develop and practice key self-rescue skills.

SUP Intro Class: This class will get you comfortable on the SUP board and introduce the basic strokes. You will paddle in a quiet lagoon area, no long distances.
Bike Guided Ecotours: (reservations required)
Naturalist Guided ecotour thru Big Talbot Island State Park, on gently rolling nature trails through tree hammocks, pine flats, and ancient dune systems.
Bike Self-Guided Rentals (no reservation required)
Rentals begin and end from our Outpost location.
Kickback Friday:
Relax on the lawn with your favorite adult beverage while toe-tapping music drifts over the marsh. If you want to workout a bit before dinner, sign up for a short kayak or SUP tour. Dinner will be served about 6pm and the music will last until 9pm. Reservations required.
Summer Camp for Kids - kayak, paddleboard, hike, nature crafts (ages 7–14):
Days are filled with travel to new exciting locations within the Timucuan Preserve such as hiking the Talbot Islands State Park, kayaking to Kingsley Plantation and SUP boarding at Huguenot Park. Each location has a historic and ecological focus.
Wilderness First Aid Camp for Teens (grades 9th – 12th):
Each day will consist of a few hours of classroom time to satisfy certification requirements with the rest of the day spent playing outside. Roll playing rescue scenarios in remote areas will allow for plenty of hands on skills practice. Students will have to work as a team to problem solve evacuations and learn survival skills with the common goal of keeping the group and patient safe. We will be kayaking, hiking, biking, and paddle boarding to locations within the Timucuan Preserve.
Gift Shop:
Good for the planet and good for you! Located in downtown Fernandina Beach, at 4 North 2nd St (across from Palace Saloon) the gift shop carries organic cotton & hemp clothing, natural soaps, fair trade items, kayak gear and much more.
Contact Kayak Amelia:
Outpost Location: Kayak/SUP/Bike is located at 13030 Heckscher Dr, Jacksonville, Florida. 904-251-0016
Gift Shop Location: 4 North 2nd Street, Fernandina Beach, Florida. 904-261-5702
Facebook: https://www.facebook.com/kayakamelia
Instagram: @kayakamelia
Online: https://www.kayakamelia.com