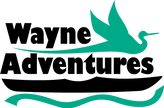 Wayne Adventures provides educational programs, guided kayak ecotours and kayak instruction throughout the Bradenton and Sarasota areas. They provide quality experiences during their trips in freshwater systems, and became a Certified Gold ecotour operator in May 2018.
Owner Wayne Douchokoff describes how "Our staff cares deeply about nature, and aims to spark a passion for it on our tours. We aim to motivate learning and stewardship for the future protection of natural Florida ecosystems."
Guests can expect to choose from paddling trips of 1 to 4 hours on a variety of waterways , so if you are interested in in booking a program or scheduling an instructional session, visit their website at
https://wayneadventures.com/
.